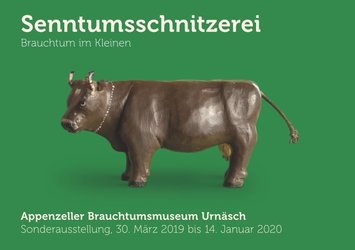 Highlights, Expositions
Senntumsschnitzerei - Brauchtum im Kleinen
Appenzeller Brauchtumsmuseum, Urnäsch
Brauchtum im Kleinen
Die Senntumsschnitzerei, auch Chüelischnitzerei genannt, ist Thema der diesjährigen Sonderausstellung.

Entwickelt hat sie sich im 20. Jahr­hundert rund um den Säntis im Appenzellerland und im Toggenburg. Anfänglich bestehen die Schnitzereien aus Alpfahrten mit Geissbub, Ziegen, Geissmädchen, Sennen, Kühen, Bauer, Bläss und Lediwagen. Später kommen weitere Motive wie Silvesterchläuse, Bloch, Streich­musik, Tanzgruppen, Holzen oder Käsen hinzu.

Zu sehen sind die Arbeiten dreier Generationen. Die Schnitzer stammen hauptsächlich aus dem Bauernmillieu. Was als Zeitvertreib zum Fertigen von Spielzeug oder von Szenen auf den Chlausenhauben beginnt, wird zum lukrativen Nebengeschäft. Heute sind die Schnitzereien beliebte Sammelstücke.

Die Sonderausstellung dauert vom 30. März 2019 bis am 14. Januar 2020.
Date
To 14/1/2020 every Mon to Sat 09:00 - 11:30 h

every Sat, Sun 13:30 - 17:00 h

Price
Es gilt der Museumseintritt.
Gratiseintritt für Museumsmitglieder und Raiffeisenkarteninhaber mit Mitgliederkennzeichnung.
Address
Appenzeller Brauchtumsmuseum
Dorfplatz 6
9107 Urnäsch