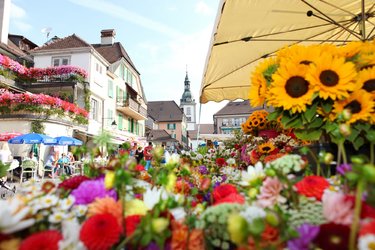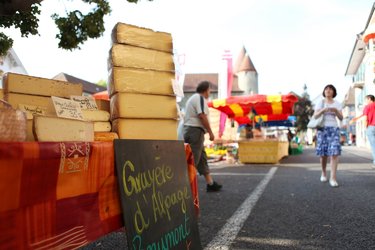 Customs, Folklore & Celebrations
Thursday's market in Bulle
La Gruyère Tourisme, Bulle
Each thursday, the market takes place in the center of Bulle.
Up to 150 traders set up in the market square, between the Château and Church of St-Pierre-aux-Liens. Various artisans from the region share the square with the potters or the second hand book-sellers in a merry cacophony. Fresh products are also presented to the visitors (cheese, vegetables,...)
If Thursday is a holiday the market will take place on Wednesday.
Date
5/3/2020 08:00 - 12:00 h
12/3/2020 08:00 - 12:00 h
19/3/2020 08:00 - 12:00 h
26/3/2020 08:00 - 12:00 h
2/4/2020 08:00 - 12:00 h
Show All
9/4/2020 08:00 - 12:00 h
16/4/2020 08:00 - 12:00 h
23/4/2020 08:00 - 12:00 h
30/4/2020 08:00 - 12:00 h
7/5/2020 08:00 - 12:00 h
14/5/2020 08:00 - 12:00 h
20/5/2020 08:00 - 12:00 h
28/5/2020 08:00 - 12:00 h
4/6/2020 08:00 - 12:00 h
11/6/2020
18/6/2020 08:00 - 12:00 h
25/6/2020 08:00 - 12:00 h
2/7/2020 08:00 - 12:00 h
9/7/2020 08:00 - 12:00 h
16/7/2020 08:00 - 12:00 h
23/7/2020 08:00 - 12:00 h
30/7/2020 08:00 - 12:00 h
6/8/2020 08:00 - 12:00 h
13/8/2020 08:00 - 12:00 h
20/8/2020 08:00 - 12:00 h
27/8/2020 08:00 - 12:00 h
3/9/2020 08:00 - 12:00 h
10/9/2020 08:00 - 12:00 h
17/9/2020 08:00 - 12:00 h
24/9/2020 08:00 - 12:00 h
1/10/2020 08:00 - 12:00 h
8/10/2020 08:00 - 12:00 h
15/10/2020 08:00 - 12:00 h
22/10/2020 08:00 - 12:00 h
29/10/2020 08:00 - 12:00 h
5/11/2020 08:00 - 12:00 h
12/11/2020 08:00 - 12:00 h
19/11/2020 08:00 - 12:00 h
26/11/2020 08:00 - 12:00 h
3/12/2020 08:00 - 12:00 h
10/12/2020 08:00 - 12:00 h
17/12/2020 08:00 - 12:00 h
24/12/2020 08:00 - 12:00 h
31/12/2020 08:00 - 12:00 h

Address
La Gruyère Tourisme
Place des Alpes 26 Case postale 593
1630 Bulle
Link