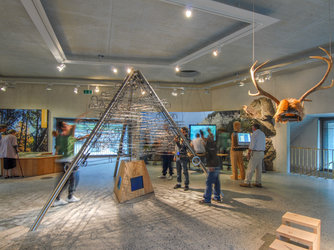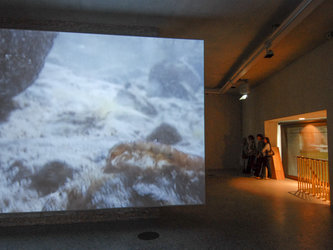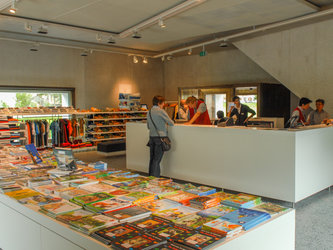 Expositions
Zernez National Park centre
Nationalparkzentrum, Zernez
We invite you to be amazed, but also to lend a hand and help to develop. Let yourself get excited about the secrets of nature and the daily wonders that you can discover on your walks along the trails through the National Park.
The visitors' center in Zernez houses permanent exhibitions about the National Park, changing exhibitions about natural history and a platform for nature conservancy organizations. Excursions for children and families lead far into the park and encourage the playful exploration and discovery of the environment even for small children. Nature-related offerings promote awareness and understanding of nature for teenagers.
Date
To 27/10/2019 08:30 - 18:00 h

Opening times:
26 December 2018 to 10 March 2019:
Monday until saturday, 09.00 until 5.00 pm
25 December 2018 and 1st January 2019 closed
11 March to 24 may 2019:
Monday until friday from
09.00 am to 12.00 am and from 2.00 pm until 5.00 pm
19 until 22 April 2019 closed (Easter)
Summer 2019:
25. May until 27. October 2019
every day from 08.30am until 06.00pm
Price
Adults: CHF 7.00
Children (from 6 to 16): CHF 3.00
Children under 6: free
Family price: CHF 15.00
Groups from 10 people, per person CHF 6.00 (please book in advance)
Free with Museumpass (www.museumspass.ch)

A free return ticket
When they travel to a park, the visitors can buy a single ticket. They then ask the event's or activity's organisor to stamp their ticket so that it makes it valid for the return trip. This offer is available from anywhere in Graubünden on Rheatian Railway and PostBus lines. More information: fahrtziel-natur.ch/retour
Ticketing
Gruppen bitte reservieren.
Address
Nationalparkzentrum
Urtatsch 2
7530 Zernez
Contact
Schweizerischer Nationalpark – Besucherzentrum
Urtatsch 2
7530 Zernez
info@nationalpark.ch
+41 (0) 81 851 41 41

Category
Nature
Permanent exhibition
Target groups
Also recommended for groups / companys
Open to all
Access for disabled people
Suitable for wheelchairs
Entry with a flat ramp / threshold
Benefits
Infants (up to 5 years) free