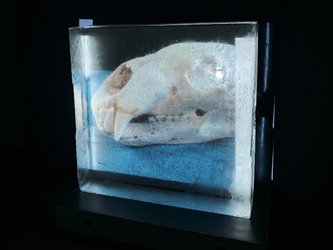 This and that
Glarner Künstler Walcher und Stützle zeigen "Des Gletschers Kern"
Unter dem Motto "Des Gletschers Kern" zeigen Martin Stützle und Fridolin Walcher eine erste Auswahl ihrer Arbeiten zu Gletscherschmelze und Klimawandel. Die Vernissage im Salzhaus Brugg ist am 10. Mai 2019, 19:00 Uhr.
Die Ausstellung im Salzhaus ist gibt einen Vorgeschmack auf die grosse Ausstellung im Kunsthaus Glarus im Dezember 2019. Vor einem Jahr waren sie gemeinsam mit Schweizer Klimaforschenden einen Monat in Grönland unterwegs. Mit ihren gestalterischen Mitteln unterstützen Sie die Erkenntnisse der Klimaforschung und machen ihre Dringlichkeit deutlich. Das Salzhaus organisiert zu diesem Thema ein Podium: "Bilder zum Klimawandel - Ich sehe, also handle ich?" am Freitag, 17. Mai 2091, 19:30 Uhr.
Contact
WalcherBild GmbH
Fridolin Walcher
Hauptstrasse 2
8772 Nidfurn
+41 55 644 39 46
+41 79 429 07 33

Main categories
More culture
Aargau
Glarus